Back
The winter months bring cold temperatures and wet conditions—but typically not a break from work and deadlines. If your job keeps you out in the elements no matter the weather, here are a few pieces of gear that can help keep you comfortable.
High-Vis Rain Gear
Blaklader's 4312 Hi-Vis rain jacket features a wind- and water-proof polyurethane coating; a high, fleece-lined collar; a storm closure with buttons; welded seams; and a removable, adjustable hood. The jacket's high-vis yellow body and reflective tape on the body, sleeves, and shoulders ensures visibility.
Heated Jacket
The M12 Heated Axis Layering System from Milwaukee is designed to withstand the heaviest rain and snow conditions. The M12 Heated Axis jacket provides the primary source of heat; powered by Milwaukee's M12 RedLithium battery technology, the jacket distributes heat across core body areas. Workers can then layer an outer shell—a Hydrobreak Rain Shell (designed for extreme wet conditions) or a Gridiron Work Shell (designed for extreme cold).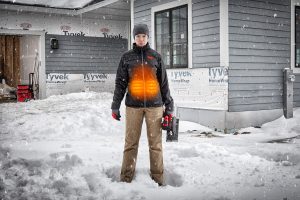 Cold-Weather Headgear
New to Ergodyne's N-Ferno line of cold-weather gear, this soft-cuffed Beanie Hat includes a bump cap insert for added head protection. The hat is made with 100% soft dry acrylic with 40-gram 3M flex stretch insulation for both warmth and comfort. A zippered compartment holds the removable bump cap.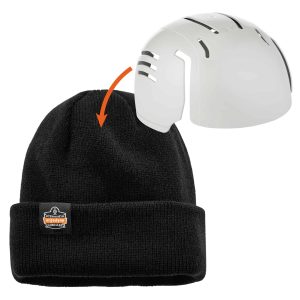 Cold-Weather Gloves
Ironclad's Cold Condition Waterproof Gloves are rated to 20 degrees and are guaranteed waterproof. Still, the low-profile gloves offer high dexterity, and their Duraclad reinforcements are eight times more durable than leather, the company says. A cuff puller helps get the gloves into position faster, and reflective stripes provide visibility in low-light conditions.
Fleece Underlayer
Made with a blend of polyester and fleece with knit-in channels, 3 Dog Fleece Base Layer pants from Duluth Trading Company provide more warmth without a lot of bulk, along with breathability and moisture wicking. Features include a 1-1/2-inch non-chafing waistband, a seat panel that prevents bunching, and a functional fly.