What Awaits the Remodeling Market Into 2023?

The current state of the new-home economy tends to lean toward the bleak, with falling housing starts and declining builder confidence. But the remodeling market may be feeling the challenges a bit less. Though spending slowdowns are happening or anticipated, various indicators point to homeowners investing in their current houses and continuing with project lists begun during the pandemic.

The Joint Center for Housing Studies of Harvard University (JCHS) is predicting a steady downturn in home improvement spending throughout the next year, Pro Remodeler reports, with year-over-year spending expected to grow just 6.5% in Q4 2023 versus an anticipated 16.1% growth in Q4 2022. Factors driving these expectations include a drop from unsustainable growth during the pandemic, higher interest rates, and higher prices for materials and labor.

Despite these contractions, reports from the field paint a picture of continued, if more measured, investment in the remodeling market, both DIY and professional.

The U.S. Remodeler Index by John Burns Real Estate Consulting dropped from 65.7 in Q2 2022 to 62 in Q3, but remains above the index's growth indicator line of 50. Among the report's key takeaways, Qualified Remodeler said, is a 4.9-month average backlog among remodelers, with 56% of survey respondents having at least four months of in-progress or planned projects. Supply chain issues are improving, remodelers said, but most also said that customers are downgrading to stay on budget amid pricing concerns.

Lowe's also conducted a survey of home improvement professionals. The Pro Pulse Survey found that pros remain optimistic despite challenges, and 73% of respondents expect to have more work next year than this year.
Homeowners Invest in Existing Houses
In a recent study of 4,000 homeowners by Houzz, only 1% of homeowners have canceled remodeling projects so far in 2022 and 23% plan to start a project in the next 12 months. "For many, conditions like limited choices of available homes and rising interest rates are driving them toward renovations and improving their current home, since the cost of moving into a house that fits their current needs has become so expensive," said Marine Sargsyan, Houzz staff economist. "Moreover, more than half of the homeowners we surveyed have no intention of selling or moving out of their current residences in the next 20 years — or ever."

Exterior updates and "bringing the outdoors in" were among the projects taking priority.

The Houzz study also found that 91% of homeowners planning remodels plan to hire a professional. Though the report didn't indicate, this could be due to some DIYers reaching the end of their pandemic to-do list of items they can perform themselves.

With some positive indicators, it's perhaps no surprise that both Lowe's and The Home Depot are "faring better than expected," according to CNBC. "Home Depot financial chief Richard McPhail pointed to an 'improve in place' mentality among current homeowners, who might have wanted to sell but changed their minds because they could no longer command top dollar," the website reported.

That's reflected in the NAHB's recent forecasts, as well. "The growth rate for improvement spending will slow due to declines for existing home sales," Robert Dietz, NAHB's chief economist, told CNBC. "However, an aging housing stock, work-from-home trends, and a decline for household mobility all favor remodeling spending."

Defining a Home's Architectural Style Using Interior Trim & Mouldings

Often referred to as a nice finishing touch or "icing on the cake," interior trim & mouldings have historically not gotten the attention and recognition they deserve for pulling a design aesthetic together. But thanks to an increasing number of passionate interior design influencers around the country, everyone from pros to enthusiastic DIYers are beginning to really appreciate the power of trim as an essential element in fully expressing home design.
Defining Every Architectural Style in Every Room
In addition to creating a seamless expression of an individual home's style, updating interior trim actually increases home value. From base trim to wainscoting to crown mouldings, it's the tasteful, ornate flourishes of trim and mouldings that depict a Colonial, the bold, simple details that define a Craftsman, and the humble, warm touches that represent a Farmhouse.
Every room in a home has its own voice. Here's how Westlake Royal Building Products™ 100% cellular PVC interior trim and mouldings fill out the character of six signature home styles.
Cape Cod
Cape Cod interiors exude a cozy warmth and practicality often described as New England charm. Our trim collections vary from subtly geometrical to boldly simple to clean and sophisticated. Areas to consider: transom windows, entry door sidelights, window casings, and dining room picture rails.
Use a Stop, 1×6 Trimboard, 1×4 Trimboard, Stool and Beaded Planking to achieve this look.
Colonial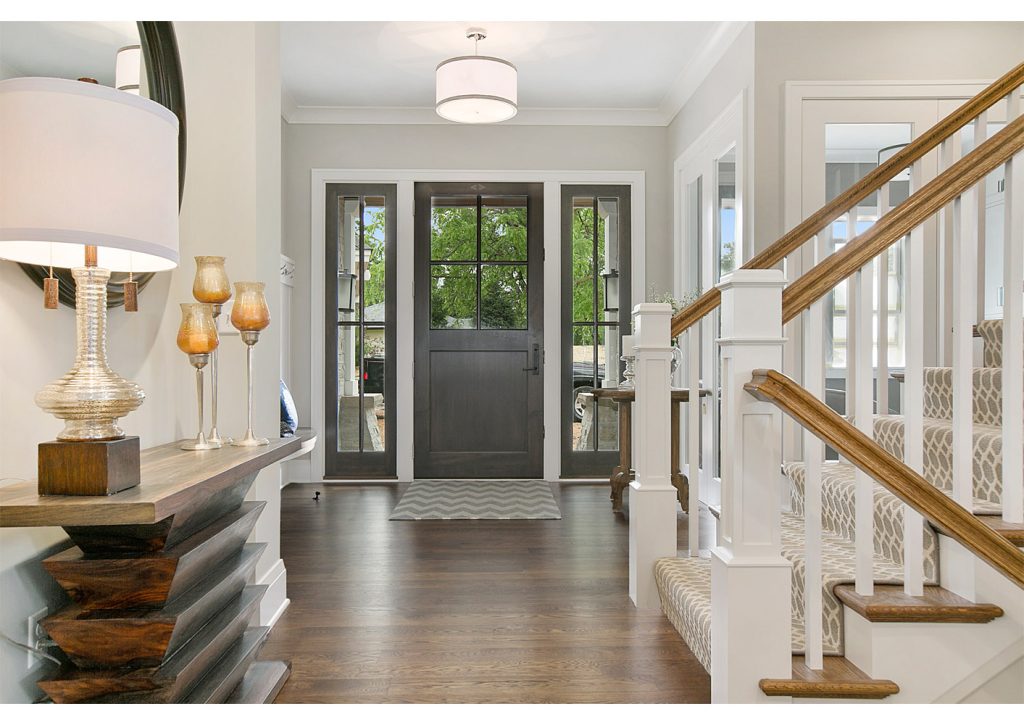 The Colonial home style is defined by a combination of rustic simplicity and rich detail. The symmetry and confident formality of this home style is best expressed by interior trim with a stately presence—everywhere from baseboards up to crown mouldings.
Use a Stop, 1×6 Trimboard, 1×4 Trimboard, Base Cap, Stool, Crown, and Beaded Planking to achieve this look.
Craftsman
Noted for its honest, handcrafted look, every Craftsman-matching embellishment has a purpose and varies by small degrees of formality. It's marked by simple, tailored door casings and minimally ornamented window casings.
Use a Craftsman Casing (11/16"x2-¼"), Craftsman Casing (11/16"x5-¼"), Craftsman Casing (11/16"x3-¼"), Craftsman Stool, Square, and Craftsman Base to achieve this look.
Eclectic
Eclectic homes take their design cues from a little of each architectural style. Interior trim that fits with this style does the same, adding a layer of ornamentation while retaining a clean formality.
Use a Casing to achieve this look.
Farmhouse
Interior trim that embraces the humble practicality of the Farmhouse home style is represented by cleanly projecting rule lines along the header and side jambs. Flatter rule lines put a contemporary take on this trim style.
Use a Reversible Wainscot Beaded/Nickel Gap, Stop (¾"x1"), 1×2 Trimboard, 1×4 Trimboard, 1×6 Trimboard, Stool, 5/8×6 Trimboard, and a Stop (⅝"x1-½") to achieve this look.
Modern
Interior trim collections that reflect the Modern home style's cleanly expansive function and flow range from understated to extroverted. Go the minimalist route and use trim to protect walls and floors from scuff marks and handprints. Amp up a neutral-colored dining room with contrasting and complementary colors. Like light mocha accents over cream-colored walls, for example.
Use a Stop, 1×6 Trimboard, Drip Cap, 1×4 Trimboard, Stool and Reversible Wainscot Beaded/Nickel Gap to achieve this look.
High Style and Low Maintenance
Westlake Royal Building Products Trim and Mouldings come in enough variations to accentuate any home style. And because they're made from PVC, they're built to last with minimal maintenance. The trim is ready to cut and install, is dent- and scratch-resistant, and won't crack, split, or warp.